New worlds Officinarkitettura
Illuminated panels inspired by pre-cinema age
Officinarkitettura® presents its new collection "Cinema Bellinzona" inspired by pre-cinema age during the XVIII century. This was the time when optical illusions, dreaming machines and magic lanterns were carried around plazas and were used to amaze thousands of people. Among other things, the so called "New Worlds" are reviewed in a contemporary way and using new technologies. They were perspective views of cities which could create a charming night-day transaction thanks to a moving light source. In this way Officinarkitettura® views of Milan's Cathedral and Navigli glow with night lights and magical effects that create suggestive settings printed on wallpaper and luminous canvas. The store 120% in Via Pontaccio, 19 becomes an exhibition gallery of this new project during the Milan Design Week 2018, where the visitors may live a journey across the world of architecture, design, and fashion. "Cinema Bellinzona" is a series of images that can be used as wall covering for interior design, but also to create dreamy atmospheres with a luminescent wall itself.
Activities schedule
April 17
10:30 — 20:00

Exhibition
April 18
10:30 — 20:00

Exhibition
April 19
10:30 — 20:00

Exhibition
April 20
10:30 — 22:00

Exhibition
April 21
10:30 — 22:00

Exhibition
April 22
10:30 — 20:00

Exhibition
Exhibitors
& companies
120%
Produced and distributed by Palladium Moda Srl, 120% was born in the early '80s thanks to the passion of its founder, Alberto Peretto, for fine fibers. Precious fibers of linen and cashmere, research of new treatments and dyeings and Italian Know-how are the identity values of the brand.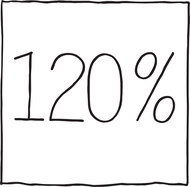 ---
www.120percento.com
info@120percento.com
051956878
Officinarkitettura®
Officinarkitettura team is composed of artists, stylists, designers and architects who design new solutions for surfaces with special attention for materials, in order to create a truly bespoke space for the people living there. ---
www.officinarkitettura.it
commerciale@officinarkitettura.it
3494643638 0510939148